We have been so busy that I couldn't do a weekly wrap-up for a while, so here is a monthly wrap-up.
Check out our Poetry Teatime in the middle of the post. This may be something that you will want to try. It is really a blast!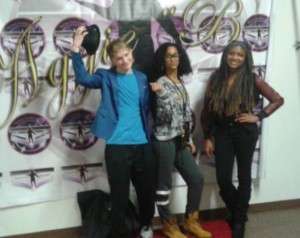 The spotlight has been on Morgan recently, literally! He got his head shots done, and they turned out really good.
Then he auditioned for a play and got a part. He went to rehearsal twice a week for over a month. Then the performances were on Mar. 4 and 5. The cast did great! They got really close. Morgan went around and prayed for each one to do their part well and not to be nervous and whatever else they needed prayer for. They were amazed at him!
We have started a new tradition! Poetry Teatime! I checked out several poetry books from the library. I try to find a special snack for each Teatime. We made monkey bread for one. We ate cheesecake for the next one. Then we made brownies and took them out of the oven too soon, so we had gooey brownies for the one after that. Some of us actually drink tea. Others drink milk, which has been the perfect accompanying beverage for many of our treats.
I have scheduled these for Wednesdays, and so far we have been very consistent in doing them as planned. Very unusual for us!
This is how we do a Poetry Teatime. We find poems we like and then read them aloud to everyone at the table. I have found some very nice poems, and the children have found some that they liked, too. It has been a very enjoyable time for all of us.
Poetry Tea Time today included Morgan telling us riddles.

Posted by Penney Hawkey Douglas on Wednesday, March 9, 2016
On this particular day, Morgan told us riddles. As you can see in the video, Morgan memorizes these riddles and then stumps the rest of the family. It added to the fun. We have really had a good time with our Poetry Teatimes.
Two sweet little girls ready for Poetry Teatime.
The big kids have found a nice way to make money on the weekends. They do something called "shakerboarding". They dress up as some kind of character and then hold a sign advertising some new homes that have been built in our area. They have been Santa, a reindeer, a merry gentleman, leprechauns, an Irish dancer and Pocahontas. Shawn, Patrick, Anna, Kelsey and Morgan have all been able to participate in this. The only problems have been some pretty bad sunburns and a bit of boredom here and there. But, hey, they are making some money, and that's always good!
On the Read-Aloud front, I finished reading "The Green Ember" to Kelsey, Morgan, Fiona, and Garrett yesterday. We took our sweet time reading it. I think we spread it over five months or so. But we really loved the book. We got interrupted by many things, including Christmas. And it's hard to get the four kids together that I read it to. I read it to Kelsey and Morgan and the twins. Kelsey missed the end because she was at work yesterday. She works at Papa Murphy's, a Take and Bake pizza place. She has a wonderful boss, who is like a second father to her. And she loves her job.
And I finished reading "Pilgrim's Inn" to Shawn. He is 25 years old, but we still enjoy reading a book together. So I was thrilled when I read the first two books of "The Eliot Trilogy" and was inspired to ask Shawn if he would like me to read them to him and he said YES!!! So we read "The Bird in the Tree" and "Pilgrim's Inn" together and thoroughly enjoyed the stories and our time together. What a delight! Seriously! We both really enjoyed the experience. As soon as we finished "Pilgrims Inn", Shawn said, "Now you have to get the third book", so I went to Amazon immediately and ordered the third book in the series, "The Heart of the Family". We should get it today! These books are by an amazing author named Elizabeth Goudge. I have only read these books by her, but I highly recommend them, and I'm sure her others are wonderful, too.

I did read a short story by her at Christmas time, called "I Saw Three Ships". I read it to the younger children, and we enjoyed the story.
Anna is studying to be a personal trainer.
She is doing an exhaustive study!
Patrick is helping Gary with some of his technical writing. Can you say "apprenticeship"?
We planted a garden!