Here are some of Charlotte Mason's thoughts about studying "The Knowledge of Man" or History:
"It is a great thing to possess a pageant of history in the background of one's thoughts." (vol. 6, p. 178)
"Perhaps the gravest defect in school curricula is that they fail to give a comprehensive, intelligent and interesting introduction to history." (vol. 6, p. 178)
We need to "offer such a liberal and generous diet of History to every child in the country as shall give weight to his decisions, consideration to his actions and stability to his conduct; that stability, the lack of which has plunged us into many a stormy sea of unrest." (vol. 6, p. 179)
Living books about the lives of great men and women of the past are the best History books I've ever read. I've used History and Bible as the basis of our homeschooling for about five years now. I wish I could tell you about all of the wonderful stories we've read through the years. But a list would not convey the depth of feeling, the life, the connectedness or bonding that have come from reading these stories aloud to my children.
We have truly enjoyed these stories together. It's better than a TV show or movie or any other form of entertainment. We each paint our own picture in our imagination and flesh out the characters and action in the way that comes to us, but at the same time, it's a shared experience. Later, we share things that we remember and we find that different things struck someone than what stood out to me and vice versa. It's not a forced sharing, but a thought comes to someone and they say, "remember in that one story about the little girl…" and the rest of us jump in with things we remember about it.
My boys just did this yesterday. We read about repeater rifles being used in the Civil War, and Patrick was surprised that they already had something that advanced that early. I remembered that there was something about rifles in the story Rifles for Watie (the title kind of gives that away). I brought it up but couldn't remember any details about the rifles or even what they had to do with the story.
Patrick and Shawn started recapping what happened in the story and they remembered lots of details and were having a great time discussing what would have happened if the South had been able to get hold of those rifles and things that happened to the main character, Jeff, when it was discovered that he was a spy, and all sorts of cool details. I didn't remember any of that, but don't tell them.
A trip to Gettysburg helped to bring History to life!

Patrick even remembered Jeff's full name and asked me if he was a real person in history. They talked about the bushwhackers and how we've always had problems with mobs like that in America taking advantage of turmoil and going around and robbing people and hurting them.
All of this discussion came from reading a book about Robert E. Lee and remembering another story we had read about the Civil War and how it affected Missouri. We read that book about 5 years ago. It seems to have made an impression on them.
I am offering a liberal and generous diet of History to my children. I hit on an idea of studying American History by reading at least one good biography of each American president. So far, we're only to John Quincy Adams. I need to find one about Andrew Jackson. I read things like Childhood of Famous Americans and Landmark books to get historical stories that are interesting to the ages of all of my children.
I have used ideas from Heart of Wisdom, History Revealed and Charlotte Mason.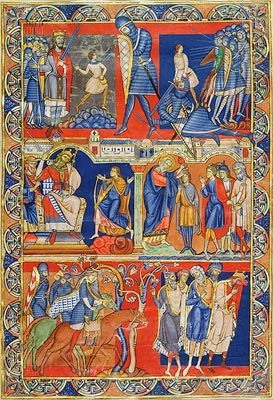 We have a timeline notebook that I keep track of for the kids. I have them color pictures of historical scenes and people (we use History Through the Ages timeline figures) and I put them in the timeline notebook where they belong.
We do some mapping and put our maps and charts in our notebooks.
We have used different means of narrating, such as plays we acted out and stories that we have written based on the historical era or biblical story that we're learning about.
I do end up covering different times in History at the same time since I go where life and the Spirit lead us. For instance, right now we're studying the beginning of the American nation, the Civil War and some British and French History around the reign of King Henry II, through reading A Proud Taste for Scarlet and Miniver and If All the Swords in England. I intend to delve into Church History and the Medieval Period through Diana Waring's curriculum Romans, Reformers, and Revolutionaries.
I also intend to read more G. A. Henty books aloud. I have read several to myself and have gained so much knowledge of History that I never even came close to learning through all of my school and college years.
Through studying History with my children in this way I have become a deeper thinker and, dare I say it, almost a philosopher. I have made connections and understood things about human nature that I hadn't seen before. I'm seeing God's hand in History through the Bible and through the books that I'm using in our study of History. I'm learning things that I'm ready at my maturity and understanding level to really grasp as my children learn what they are able to glean from our studies.
I believe that reading books about heroes and men and women of great character is teaching my children to become great men and women – History-Makers!.
Our study of History is the mainstay of our homeschool curriculum. It has enriched our family life and brought great fulfillment and enjoyment, satisfying our hunger to learn and to understand what's happening in the world around us.
Favorite History Resources
Heart of Wisdom – Adam to Messiah by Robin Sampson
History Revealed by Diana Waring
Sonlight catalog booklist for each year
YWAM Books – Christian Heroes Then and Now
G. A. Henty Books – "Henty readers learn in-depth history, superior vocabulary and literary techniques, and the advantages of high personal character – while they are being entertained by a master storyteller." from Robinson Curriculum website – you can read these free online at gutenberg.org or archive.org
History Through the Ages Timeline Figures
and all Homeschool in the Woods products
All Through the Ages List of Books for each age of History by Christine Miller
Lamplighter Books – These books are great for teaching our children good Christian character and for giving our students a taste of what different eras were like.
I have found many, many of these type of books at the library. That is my favorite resource of all!
This post is included in the Charlotte Mason Carnival at Fisher Academy International.
And it's included in the Carnival of Homeschooling at Consent of the Governed.