These are some of the booklets from the Early American lapbook we did from Hands of a Child. They demonstrate how a lapbook can be used by different aged children at the same time. The younger children can do the more basic, simple booklets while the older children write longer reports and go more in-depth into topics.
The teacher can let children choose the topics they want to write about or assign a booklet based on the length or difficulty of the task. I have found that lapbooks have been one of the only ways I can get some of my boys to write anything. They sometimes resist at first, but then they usually do a good job and feel proud of their accomplishment.
Anna filled in the answers about the Star Spangled Banner.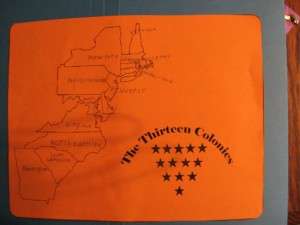 Morgan also wrote a story called, "My Day with Davy Crockett" which I posted here. He wrote this in conjunction with this Early American lapbook.