I baked all day Wednesday and accomplished everything on my list, except for the most important thing. The day started with a jolt when I realized that our beverage supply was depleted and we needed bread and milk, and I needed apples to make apple pie (Emma and Abby love those green apples), so Anna, Abby and I went to the store. Then we ate at Subway, using our coupons. Then we went home and Anna and I got busy with our pies. She made two pumpkin pies, and I made an apple pie. Fiona and Emma made the Chocolate Crinkle cookies. Garrett baked brownies. Katie and Kelsey made turkey cookies with the little ones. We even went to the YMCA that evening.
Then we set out to accomplish our most important goal of the day – picking up Daddy at the airport. Shawn went with me as usual, and this time we picked up another passenger. Emma wanted to go pick up Daddy. After all, she had drawn a map to help him find his way home.
So we headed south for Baltimore. Suddenly, as we crossed into Maryland, I had to go to the bathroom really bad. We were running a little late, so I thought I would have to wait until we got to the airport. We were humming along, making pretty good time when the phone rang, and Gary, with much furiosity and contempt for Continental Airlines told Shawn that his connecting flight took off without him. He was stuck in the airport in New Jersey with no way of getting to Baltimore that night. He told us to turn around and go back. I needed to find a place with a bathroom, so I kept driving until I found an exit with a McDonald's. It was after 11:00 PM. We finally found one, and I was never so thankful for a McDonald's in my life!
Gary called again and said that he was going to fly into Harrisburg the next day by 1:30 PM. I would have to drive north tomorrow in the middle of Thanksgiving Day and pick him up at the other airport. But I was fine with that. At least he would be home for Thanksgiving.
He had to sleep in the airport. Continental did not provide anything for him. They said it wasn't their fault. Gary won't be flying with them again.
So my plans got rearranged a little bit. I put the turkey in the oven when I got up like I had planned. I started making the dough for the dinner rolls. I made the Peanut Blossom cookies, peanut butter cookies with Hershey's Kisses in the middle. I put Kelsey to work on the sweet potato casserole. We got the recipe from a picture book called Thelonius Turkey Lives.
I told her to start on the green beans after that. Katie was taking a shower, so I didn't get a chance to tell her what to do. But I left my list on the counter.
Shawn and Anna and I went to pick Gary up, and I left the other kids watching a free NEST showing of William Bradford on my new laptop.
Kelsey was in charge until Katie got out of the shower.
We picked Gary up without a hitch – PTL. He had settled down and wasn't so angry any more, but he still has no love for Continental.
We got home and Katie was busy with thawing the frozen Hawaiian Rolls. She started on the corn. Anna worked on the dishes. Katie made the Stove Top stuffing. I cut up potatoes for mashed potatoes. Kelsey formed the homemade rolls. I made my kind of stuffing. Anna cooked the asparagus. I cooked cream corn. Anna made gravy. I mashed the potatoes. I put the rolls in the oven. We were like a well-oiled machine, kind of. Katie kept finding bowls for everything and setting them on the table.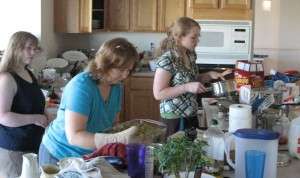 I went over to the table and saw that we didn't have any room for plates, so we could sit there and eat! We took all of our centerpieces off the table and started setting out plates and silverware. Morgan had been guarding the food from the little ones, so he helped me set the table. Fiona helped set out the silverware.
We were just about ready when I heard Gary say something to one of the kids about going to start playing a game. I told him we were ready!
I put food on plates for Emma and Abby before the rest of us sat down to keep them occupied.
I had everyone say what they were thankful for. Some were silly, some were serious; nobody was very eloquent, everybody was hungry! Then Gary gave thanks for all that God has done for us. His prayer wasn't very long, either. He was starving! Then he carved the turkey, and we all dug in.
We had our usual Peanuts music playing in the background.
Everybody ate until they were stuffed. Very few of us had room for dessert.
After dinner we watched The Many Adventures of Winnie the Pooh. We had put it in for Emma and Abby to keep them occupied while the rest of us ate. We watched and reminisced about how we watched those with Shawn when he was little. He's about to turn 21 in a little more than a month.
The boys put the leftovers away and cleaned the dishes.
I had the kids watch The Charlie Brown special about the Mayflower Voyage. We told Gary some of the new stuff we had learned about Squanto. Then the older kids played some X-Box with Gary. They refrained from playing it all day until then.
Then the day was over. A peaceful, relaxed holiday spent with the people we love most, rejoicing in spite of adversity and hardships (like spending the night on the cold floor of the airport – poor Gary), and remembering the goodness of the Lord.
Thanks for the memories! At this point, I'm thankful to have a memory!